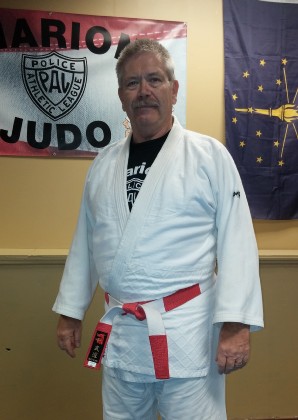 Bruce Bender is a retired Police Officer with over 24 years of service with the City of Marion, IN. and the US Army Military Police. Since retirement from law enforcement he became the Director of Emergency Management and Homeland Security for Grant County, IN for 12 years retiring in 2017 with 37 years of Public Service. Four months after retirement Bruce was asked to come back as a consultant for Grant County EMA/DHS and was hired as the Deputy Director.
During his career in law enforcement, he developed and was in charge of the Defensive Tactics Program at the Police Dept. He was Law Enforcement Academy certified in PPCT Control Techniques instructor prior to his retirement and taught Indiana Law Enforcement Academy certified classes around the Midwest. This includes instruction of Defensive Counterstrikes, Pressure and Motor Points, Handcuffing techniques, Handgun Retention and the use of Impact Weapons. Bruce is an ILEA firearms expert and past "Top Gun" winner for the Marion Police Dept.
Bruce Bender has been involved in Judo since 1969 and is a Life Member of the United States Judo Association. Membership also includes United States Judo Federation and USA Judo, the National Governing Body
Bruce is a 2x Indiana State Champion, 2x National Masters Champion and a 5th place finisher in the 2005 World Masters. He is also a past recipient of "Indiana Coach of the Year" for Indiana Judo Inc. Marion PAL Judo was named "School of the Year" for Indiana in 2004, 2015, and 2016. Bruce and his coaches hold a USJA sanctioned Regional Tournament each November in Indiana called the Red, White, and Blue, Classic
He has coached several juniors and seniors to National and International Championships and placing (All records on file upon request).
He has taught several hundred self-defense and awareness seminars. The Grant County Domestic Violence Awareness Divison has sponsored several of the seminars at Indiana Wesleyan University.
Bruce was a Board Member of the Grant County Humane Society for 7 years and Vice President for 2 years.
From 1983 to 2005 Bruce was dedicated to the Marion Police Department. His commitment however, did not stop there. He has spent countless evening and weekend hours volunteering for the good of the Grant County community in his dedication to the Humane Society and teaching the youth of our community discipline and respect through Judo.


Certifications:
6th Degree Black Belt in Judo
Certified Instructor, Continental Level Coach, Referee, and Master Rank Examiner
4th Degree Black Belt in Jujitsu
CPR/AED – American Heart Association
CPR/First Aid – Emergency Care and safety institute
Head's Up – Concussion in Youth Sports Training for Coaches
Safesport – Training for Coaches
Indiana Law Enforcement Academy Certifications
General Instructor 1992 to Present
PPCT Defensive Tactics Instructor: 1992 – 2005 (Retirement)
Includes but not limited to: Pressure Point Control, Defensive Counterstrikes, Impact weapons, Weapon Retention, and Takedown Techniques
Survival Tactics Instructor: Ground Fighting and Submissions
Non – lethal Chemical Weapons 1993 – 2005 (Retirement)
Family Violence/Domestic Violence, SIDS: 1994 – (Retirement)
Center for Domestic Preparedness – National Incident Management Systems (Federal)
Associated with the Indiana Department of Homeland Security

Membership commitments include:
United States Judo Association Life Member
United State Judo Federation
United States Judo Incorporated.
Indiana Judo Incorporated (Past Vice –President)
Grant County Crimestoppers Board of Directors
Emergency Management Alliance of Indiana
International Association of Emergency Managers.
Grant County Local Emergency Planning Committee
Fraternal Order of Police
Indiana Department of Homeland Security District 6 (Past Chairperson)
Marion Police Department "Use of Force" consultant
Marion Aero Club (Past Treasurer)
Grant County Emergency Management/Homeland Security consultant (Deputy Director)

Awards & Commendations
2016 Indiana Judo Outstanding School of the Year
2016 Grant County's Martial Arts School of the Year
2015 Indiana Judo Outstanding School of the Year
2015 Grant County's Martial Arts School of the Year
2014 Grant County's Martial Arts School of the Year
2012 Grant County's Martial Arts School of the Year
2011 "Good Scout Award" from the Sagamore Council BSA.
2007 Grant County's Martial Arts School of the Year
2005 Grant County "Champion of Children Award"
2005 "Most Outstanding Senior Competitor" United States Judo Association
2005 World Master's (5th Place)
2005 USA Judo Masters Hwt National Champion
2005 Jr. Pan Am Coach (Costa Rica)
2004 Indiana Judo Outstanding School of the Year
2004 Jr. Pan Am Coach (Dominican Republic)
2003 USJA National Champion
2002 Indiana Coach of the Year
2 X Indiana State Judo Champion
Past Georgia State Champion

Law Enforcement
2004 Exchange Club "Officer of the Year" finalist
2002 "Top Gun" Winner
Letter of Commendation: 1999
1997 Crime stoppers "Officer of the Year"
Letter of Recognition: October 2, 1997
Letter of Commendation October 21, 1995
1994 Crime stoppers "Officer of the Year"
Letter of Recognition: October 27, 1994
"Meritorious Service Life Saving Award" 1987